Overview
Here are some major events to have happened in the history of the Stepford County Railway, such as the Big Update, 1M Update and the adding of the Interior Trains Such as Class 508 to the WaterLine and 158. to the Stepford Connect fleet.
SCR History
2017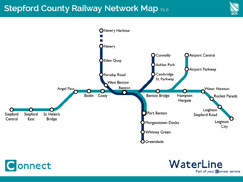 2018
January (date unknown): Class 720 was added.
January 1: Class 170 was added.
January 5: Run button was added.
April 21: The Big Update (SCR Version 1.0) is released. New features include the new driver GUI and new stations, as well as smarter signal systems and some changes to stations/tracks. Six stations were added.
May 27: AMAviation resigned, leaving billythepet to be the only Head of Network Signalling
June 12: 1.1 was first announced to the public in the form of the Signaller's blue dot and the speed limits.
August 18: The day we all waited for. SCR reaches 1 million visits! As a thank you from Charlie, he released the surprise One Million Update.
November 1: A new official way of roleplaying in Stepford County Railway, In-Game-Shift held its grand opening. This was innovated by then [SG] Quality_Content1 and is run by him and [HNS] Billythepet.
November 4: Many of the High Rank roles were renamed. For example, the rank [PS] Platform Supervisor was renamed to [SDS] Senior Dispatcher.
December 1: The Sneak Peak Advent Calendar for the upcoming SCR Version 1.1 began. The #sneak-peeks channel in the Discord was renamed to #advent-calendar for this occasion. There were 24 sneak peeks shown, with one being posted daily.
December 24: #advent-calendar was renamed back to #sneak-peeks. 1.1 got an official release date at the same time, slated for December 31.
2019
February 17: Platform Repeaters were replaced with "OFF" Indicators. The repeaters along the line, however, remain.
April 28: SCR Version 1.2: 6 new Stepford Connect stations open, which are: Stepford High Street, Whitefield Lido, Stepford UFC, Woodhead Lane, Houghton Rake, and Whitefield.
May 6: SCR reaches 3 million visits! Class 331 is added.
May 7: BanTech announces that interiors will be coming to all trains, starting with the new Class 158
May 8: The Class 158 begins testing on Stepford Connect, being driven by Beta Testers.
May 14: SCR Version 1.3 releases with the first two NG trains, Class 158 and Class 508.
May 24: Next Generation Class 185 (Airlink) added, replacing the paper one.
May 29: Next Generation Class 185 (Connect) added, replacing the paper one.
June 14: A new Management Department called "Product Development" was created with yrrebRBLX being Head of Product Development.
June 14: The role Workforce Data Analyst was removed to make way for Head of Product Development, and users in the role were ranked to Mobile Operations Supervisor
June 24: The new scenery between Stepford Central and Stepford East, created by yrreb, is released to the public.
June 26: Operations Director (Mattyx2013) announces the upgrade of Class 350, Class 357 and Class 360 to Next-Gen.
July 2: BanTech announces the release of the concourse information boards, as well as additional station announcements.
July 5: The NG Class 357 and Class 350 replaces the paper version of the aforementioned trains, Concourse Information Boards are added, and all servers are given a 45 player limit during the weekend.
July 7: Class 458 revealed on Discord and Charlie announces an upgrade of SHB platforms 4-7.
July 14: Class 707 Next Generation revealed on Discord (Guessing game).
July 21: Class 707 and Class 360 are upgraded to Next Generation, St. Helens Bridge upgraded and given detailed Scenery. New AirLink logo displayed.
July 22: All servers are given a 20 player limit due to severe lag.
July 24: New Logo, New Uniforms, and Dummy Driver added.
September 16: Five Million Update: Class 755 added, 2 new routes for AirLink; Stepford Airport Central <> Leighton Stepford Road and Airport Terminal 3 <> Leighton Stepford Road and Real-Life Merchandise was added via Teespring
September 23: A new sneak peek on Discord revealed Westercoast and has previewed the Llyn-by-the-Sea line.
September 25: Language translation (French, Spanish, Polish, German, and Dutch), Xbox and gamepad compatibility update, updated train movement, and updated sensor detection system.
September 28: Next Generation Class 802 revealed on Discord and Twitter.
September 29: A second station, Faymere is revealed for the upcoming Llyn-by-the-Sea line.
October 4: Next Generation of Class 321 and Class 319 in Sneek peek
October 5: A third station, Northshore is revealed for the upcoming Llyn-by-the-Sea line.
October 8: A modern upgrade for Leighton City was announced as part of the update that adds the Llyn-by-the-Sea line.
October 11:An exploit channel called "SCR Leaks and Reveals" reveals the entire Llyn Extension,starting a crisis in the SCR Community.
October 15: A new entrance for Leighton City was revealed.
October 16: A fourth station, Starryloch is revealed for the upcoming Llyn-by-the-Sea line.
October 18: Class 43 was previewed on the SCR official Discord and Twitter, also revealing the terminus and the fifth sneak peek of the upcoming extension, Llyn-by-the-Sea.
October 20: A new entrance for Llyn-by-the-Sea was revealed.
October 25: A photo with a sign saying"LINE B" and a speed 30 limit was revealed on both the discord and twitter but the post on twitter said "Line A or Line B" so we can know the other sign have Line A written on it.
October 26: Thehazad9 resigned, and cg7033 took his place as People Director
October 28: An unknown route that says "20 stops" revealed on Discord
October 28: Stece_Sama was promoted to Head of Driver Operations alongside Tr_ain.
October 29: OverheadWires resigned from Product Developer, and Mattyx2013 resigned as Operations Director.
Community content is available under
CC-BY-SA
unless otherwise noted.