This article is the history of Stepford County Railway since its creation. For the patch update list post-V1.0, see Changelog.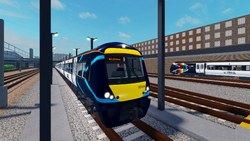 Here are some important events to have happened in the history of the Stepford County Railway, such as the Big Update, addition of the Next Generation trains which have interiors unlike legacy trains, introduction of Stepford Express, as well as some alterations of Supervisors and above.
History
2017
15th March: SCR was founded, but was not released. Scripting and building of the game commences.
25th November: SCR was released to the public. Basic features included AWS, signal lights, auto-junctions and destinations. Stepford Connect commences services from Stepford Town to Port Benton and Stepford Airport Central.
29th November: The Class 321 was added, Winstree officially opens to the public and the SCR Official Discord in its current incarnation was started, with DS RoseTaylorMurray sending the first message in #stepford-related.
30th November: Coxly Depot and the Class 333 were added in to alleviate traffic from Benton Depot.
2nd December: The testing of the AirLink line began and Bodin, Benton Bridge, Stepford Airport Parkway and Stepford Airport Central were remodeled.
3rd December: Benton was remodeled for extra capacity. The Big Update was first revealed to the public. (Not released, just revealed).
6th December: Class 350 was added.
11th December:A special Christmas livery for Class 700 was added.
13th December: Class 185 was added.
15th December: BanTech joins SCR as the Chief Development Officer (later renamed to the Innovations Director)
16th December: WaterLine services commenced and ran services from Benton to Greenslade. Class 165 and Class 166 were deployed on the line. This update also includes an upgrade on Benton and a new station, Angel Pass, gets added to the Stepford Connect mainline.
21st December: Class 387 was re-added for Waterline and services on the Waterline have been extended to Newry and Newry Harbour.
2018
1st January: Class 170 was added.
5th January: Run button was added.
21st April: The Big Update (SCR Version 1.0) is released. New features include the new driver GUI and new stations, as well as smarter signal systems and some changes to stations/tracks. Six stations were added.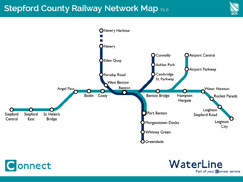 12th June: 1.1 was first announced to the public in the form of the Signaller's blue dot and the speed limits.
18th August: The day we all waited for. SCR reaches 1 million visits! As a thank you from Charlie, he released the surprise One Million Update.
22nd September: The new Stepford Central control board was announced
1st November: A new official way of roleplaying in Stepford County Railway, In-Game-Shift held its grand opening. This was innovated by then [SG] Quality_Content1 and is run by him and [HNS] Billythepet.
4th November: Many of the High Ranks roles were renamed. For example, the rank [PS] Platform Supervisor was renamed to [SDS] Senior Dispatcher.
1st December: The Sneak Peek Advent Calendar for the upcoming SCR Version 1.1 began. The #sneak-peeks channel in the Discord was renamed to #advent-calendar for this occasion. There were 24 sneak peeks shown, with one being posted daily.
24th December: #advent-calendar was renamed back to #sneak-peeks. 1.1 got an official release date at the same time, slated for 31 December.
31st December: At 12:00 UTC, SCR Version 1.1 was released. Many features like AirLink, lots of new infrastructure and rolling stock and many other changes were added and a new High Rank Department called "Workforce Development" was created with JiveOff being Head of Workforce Development and Thewelsh1 being a Workforce Data Analyst.
2019
17th February: Platform Repeaters were replaced with "OFF" Indicators. The repeaters along the line, however, remain.
28th April: SCR Version 1.2: 6 new Stepford Connect stations open, which are: Stepford High Street, Whitefield Lido, Stepford UFC, Woodhead Lane, Houghton Rake and Whitefield.

6th May: SCR reaches 3 million visits! Class 331 is added.
7th May: BanTech announces that interiors will be coming to all trains, starting with the new Class 158
8th May: The Class 158 begins testing on Stepford Connect, being driven by Beta Testers.

14th May: SCR Version 1.3 releases with the first two NG trains, Class 158 and Class 508.
24th May: Next Generation Class 185 (Airlink) added, replacing the paper one.
29th May: Next Generation Class 185 (Connect) added, replacing the paper one.
14th June: A new Management Department called "Product Development" was created with yrrebRBLX being Head of Product Development. The role Workforce Data Analyst was removed to make way for Head of Product Development and users in the role were ranked to Mobile Operations Supervisor.
16th September: Five Million Update: Class 755 added, 2 new routes for AirLink; Stepford Airport Central <> Leighton Stepford Road and Airport Terminal 3 <> Leighton Stepford Road and Real-Life Merchandise was added via Teespring
23rd September: A new sneak peek on Discord revealed Westercoast and has previewed the Llyn-by-the-Sea line.
25th September: Language translation (French, Spanish, Polish, German and Dutch), Xbox and gamepad compatibility update, updated train movement and updated sensor detection system.
28th September: Next Generation Class 802 revealed on Discord and Twitter.
29th September: A second station, Faymere is revealed for the upcoming Llyn-by-the-Sea line.
30th September: Class 802 upgraded to Next Generation. Fixed bugs : mobile control issue; mouse freeze; irrecoverable movement control failures close to Berrily, Benton and Stepford Central Platform 5; Seat issue on Class 707 and Class 755/4; close board button issue; summary window & change route selection issues for gamepad/Xbox; Class 755/3 spawn issue; other minor issues.
4th October: Next Generation of Class 321andClass 319 in Sneak peek
5th October: A third station, Northshore is revealed for the upcoming Llyn-by-the-Sea line.
8th October: A modern upgrade for Leighton City was announced as part of the update that adds the Llyn-by-the-Sea line.
15th October: A new entrance for Leighton City was revealed.
16th October: A fourth station, Starryloch is revealed for the upcoming Llyn-by-the-Sea line.
18th October: Class 43 was previewed on the SCR official Discord and Twitter, also revealing the terminus and the fifth sneak peek of the upcoming extension, Llyn-by-the-Sea.
20th October: A new entrance for Llyn-by-the-Sea was revealed.
25th October: A photo with a sign saying "LINE B" and a speed 30 limit was revealed on both the discord and twitter but the post on twitter said "Line A or Line B" so we can know the other sign have Line A written on it.
26th October: Thehazad9 resigned and cg7033 took his place as People Director.
28th October: An unknown route that says "20 stops" revealed on Discord.
28th October: Stece_Sama was promoted to Head of Driver Operations alongside Tr_ain.
29th October: OverheadWires resigned from Product Developer and Mattyx2013 resigned as Operations Director.
1st November: The entirety of SCR Version 1.4 is leaked by anonymous beta testers.
7th November: Charlie_RBLX officially denounces SCR Leaks, afteer making a statement about the situation.
13th November: The New Operations Director, ATEKGaming, was announced.
19th November: MortyOfficial was promoted to Head of Platform Operations alongside Al_Vids and TransportForWales was promoted to Head of Network Signalling alongside billythepet.
25th November: SCR reaches 6 million visits on its second anniversary, alongside a V1.4 status update.
29th November: Tr_ain resigns from Head of Driver Operations.
1st December: The 2019 December advent calendar is launched. However, it isn't update-related, due to SCR Leaks continuously leaking details about Version V1.4, causing some users to get angry.
3rd December: Michelleeeeeee was promoted to Head of Driver Operations alongside Stece_Sama

9th December: Following an announcement regarding the release of "an update" (possibly 1.4) this week which aroused wild rumors, SCR is placed as a featured ROBLOX game for a week, increasing the player traffic on SCR.
11th December: The Stepford Express line map header was revealed, confirming that the main colour of the line is going to be purple, however the line colour was known by the public previously as the Class 43 is coloured purple as well.
12th December: SCR becomes plagued by a rash of game crashes.
13th December: BanTech announces on Discord that 1.4 is ready for release, barring tweaks to route timings and finding the source of the crashes with the help of Roblox engineers.
14th December: V1.4 release date revealed for 16/12/19. BanTech announces on Discord that the issue has been found and a temporary fix to prolong the amount of time before a crash is implemented. The cause is described as "a strange case of the server collisions memory increasing and never coming back down - it just rises forever. Essentially, the server runs out of memory."
16th December: SCR has reached 7 million visits. cg7033 announces that 1.4 has been delayed once again while Roblox engineers fix the memory leak issue. Later that day, BanTech announces that Roblox has the fix and also admits to the existence of a Class 801.

17th December: SCR Version 1.4 released; Express added, Llyn-by-the-Sea line added, new routes. Doodgewoonbas was promoted to Head of People Engagement (now Head of Community Engagement or HCE) alongside SCR_AutoRank and JiveOff.
2020
2nd January: Mattyx2013 returned to the SCR development team as a Product Developer, alongside yrrebRBLX and thehazad9.
3rd January: Class 331 and Class 465 confirmed for Next Generation upgrades, along with a much-awaited renovation to Whitefield station, all sneak peeked in one photo posted by Mattyx2013.
4th January: SCR reaches 8 million visits.
27th January: The Class 720 was confirmed for a Next Generation upgrade, as well as a new depot: Faymere Green TMD. The sneak peek also included a shunting Class 08, which would only be used for scenery.

30th January: New benches, lamp posts and other props were revealed by Mattyx2013.
1st February: The updated SCR Roadmap was revealed, featuring a new priority system. A '???' feature (confirmed as Guard later in April) was introduced.
2nd March: The Class 707 was said to have some parts removed by the next update in an attempt to reduce lag, according to Mattyx2013.
3rd March: TransportForWales became Head of Operational Standards, leaving an empty Head of Network Signalling position which was taken by ThePolishDJ, now working alongside billythepet.
4th March: The optimised Class 707 was released. SCR also reached 9 million visits.
6th March: Class 332 and Class 333's Next Generation upgrade was revealed on Discord.
8th March: cpc20514 resigned from the Head of Platform Operations role, leaving an empty position.
12th March: Jidansu was promoted to Head of Platform Operations, alongside MortyOfficial.
13th March: Jidansu resigned from Head of Platform Operations, leaving an empty position.
16th March: TheSiriusET was promoted to Head of Platform Operations, alongside MortyOfficial.
18th March: 2nd upgrade of Stepford Central revealed and soon released by PDV, yrrebRBLX. This also includes the relocation of the former ROC to the newly updated Stepford Central, along with a 25% discount on trains and routes due to COVID-19. Meanwhile, the '???' feature was accidentally removed from the roadmap, which was re-added later.
20th March: ATEKGaming resigned from Operations Director and IslandLine took his place. ATEKGaming took IslandLine's place as Head of Operational Standards.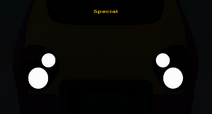 26th March: An unknown special train (one of Bombardier Voyager family) was revealed. Given due to the purple color scheme, this could be a new Express train. The community quickly identified it as a train from the Voyager family.
28th March: Another sneak peek was released, showing two Express Class 221s and a Class 220 in Stepford Central.
30th March: SCR reaches 50,000 Roblox Group members.
1st April: tpx_jm was promoted to a new role, Head of Brand Design.
4th April: ATEKGaming temporarily resigned from Head of Operational Standards and moved back to Leading Driver. FrostedPlasma13 replaced him as Head of Operational Standards.
15th April: Ten Million Update: SCR reached 10.0M visits, with Class 220 and Class 221 released. R079 and R027 added.
17th April: BanTech posted a sneak peek of an excel sheet, supposedly for testing purposes, with the message saying "Testing various features of your Version 1.5.0..."
20th April: tpx_jm announced the Class 380 confirmed for Next Generation upgrade with a brand new, unique Stepford Connect livery.
21st April: ThePolishDJ stated on Discord that Stepford Connect is rebranding and the Class 380 livery will be on all trains.
22nd April: Mattyx2013 has announced the Next Generation Class 165 and Class 166, leaving the Class 730 to be the last Previous Generation train. Also, the train in the sneak peek appears to be a double configuration of the Class 165 or an Class 165/166 5-car variant.
24th April: SCR's "Change Is Coming", which announced the upcoming Guard rank, was premiered on YouTube at 20:00 GMT. This was confirmed to be the "???" feature on the roadmap, as well as V1.5.
26th April: The Guard, Senior Guard and Head of Guard Operations were added to the group. Also the new SGDs and HGO have got their role. TransportForWales and FrostedPlasma13 were transferred to HGO, leaving HOS empty for a few hours until hv9690 and RLSJ1997 were promoted to HOS.
28th April: Product Developer Mattyx2013 says in a livestream that the Class 170, Class 331, Class 350, Class 377, Class 465, the Mark 3 coaches for the Class 68, the Class 171, the Class 195 and the Class 379 have been converted as of now and the Class 730's Next Generation upgrade was complete and to expect a sneak peek later.
30th April: The Class 730 Next Generation has been sneak peeked. That mean there will be no Previous Generation trains in SCR after v1.5. Later BanTech revealed a new sneak peek showing what will the driver see when a guard request to guard his train and yet another showing Guard's panel.
1st May: SCR Version 1.5 was released at 23:00 BST. Also, new colors for The Ranks have been revealed and were also released. Player limit of new servers are increased from 20 to 30 to accommodate guards in the server while keeping the same amount of drivers and dispatchers in the server the same as before.

2nd May: Mattyx2013 posted sneak peeks of Class 357, Mk3 coaches for Class 68, Class 331, Class 170, Class 350, Class 377, Class 465, Class 508, Class 195, Class 171 and Class 379 bearing the new Connect and Waterline liveries.
6th May: Mattyx2013 posted sneak peek of new lighting at St Helens Bridge
7th May: BanTech posted a sneak peek of a reservation system for training sessions, patch 1 for V1.5 released with new lighting and training reservation system. The server was rebooted several times due to bugs.
9th May: SCR reached 11 million visits, however no announcement was posted.
19th May: Mattyx2013 posted a photo on Twitter of New Seats for Next Generation trains, starting with a rebranded and smoother Class 333.
25th May: SCR hits 60k group members. Mattyx2013 published a sneak peek of Coxly's scenery upgrade and new station signs.
30th May: A sneak peek showing a refurbished Stepford Victoria station was posted, along with new signage for the station. The official SCR Instagram account is revealed in an announcement later in the day and Leading Driver was renamed to Lead Driver.
2nd June: Another sneak peek was posted showing the new design for the Stepford Connect Headquarters which bears a resemblance to the new Stepford Connect livery.

5th June: OverheadWires rejoins SCR as a PDV.
6th June: Mattyx2013 showcases the new refurbished Class 720 with new Stepford Connect livery and confirms his resignation from the Product Developer role.
8th June: A new badge, The Weight of the World, is added, with a description of "Seriously? Climbing statues again?!"
9th June: SCR reaches 12 Million visits, but no announcement is made.
11th June: A sneak peek of upgraded scenery between City Hospital and Stepford Central and a redesigned signal is posted by BanTech in the SCR Official Discord with a note saying there is 'lots to share soon'.
14th June: Product Developer yrrebRBLX posted a sneak peek on the SCR Discord of the new area around Stepford Victoria, that also showed the exterior of the new Stepford Victoria station.
16th June: Innovations Director BanTech posted a sneak peek showing a new Stepford Connect Class 730 to Westwyvern leaving platform 5 at Leighton Stepford Road station, showing redesigned signal S356.
19th June: Innovations Director BanTech posted an announcement in the SCR discord about new training queues. It was "For anyone concerned about the training reservation issues and getting onto a session". Following the announcement hours later, Charlie_RBX posted a sneak peek of an another angle of the new Coxly station, which the picture also revealed the rebranded Class 158 and Class 185.
22nd June: Managing Director Charlie_RBX posted a sneak peek of Morganstown Docks station, with a Class 171 standing at platform 4 and another train on the bridge connecting the station to Morganstown, meaning that the Morganstown Shuttle will be active. Also, new Waterline signs for stations are to be seen on the sneak peek. Later that day, Charlie posted an image of a Class 68 and a rainbow livery Class 331 at a new station named Beechley. V1.6 is released with a new Willowfield extension. All Waterline and Stepford Connect trains have been rebranded with the new livery.
24th June: V1.6.1 was released for data migration. About an hour later after the update was released, Innovations Director BanTech posted an announcement on the SCR Discord saying that Managing Director Charlie_RBX was been incorrectly terminated from Roblox after uploading a new audio file for announcement sounds (according to their Discord). BanTech stating "We're contacting Roblox to restore the account at which point we will be able to address any data migration issues affecting some of you". Due to the reaction from the players in the SCR Discord, they had to close all of their channels (except voice channels) until the issue was resolved. A few hours later, Charlie_RBX was unbanned and the Discord channels reopened. Later it was told that Charlie_RBX got his account terminated for "inappropriate username" after a Roblox moderator thought the word Bodin in new announcement files is an inappropriate word mistakenly.
25th June: BanTech posted at #sneak-peek on SCR Discord with the new train Announcements. They are released as v1.6.2 later that day, in which the in-train announcements have been changed to human announcements from a real-life GWR female announcer, replacing the old TTS (Text to Speech) computer-generated voice announcements.
27th June: cg7033 steps down as Relations Director on reflection of his personal actions within the community, with thehazad9 taking his place.
28th June: V1.6.3 was released to SCR with reduced lag and temporary 40 player servers as a trial.
30th June: SCR reached 13 Million visits, but no announcement was made.
9th July: BanTech announces on Discord that a new training system will go live on 16 July, at 23:00 BST. Also, on 11 July at 11:00 BST, new reservations will no longer be accepted, but BanTech reassured players that already booked trainings will remain. The new system let players select 3 hour slots in which they were available, so they would only be allocated to trainings within the times they had selected. Once you are in the queue, you will be informed of your position and can change slot preferences without losing the spot.
16th July: Patch 4 was released at 23:00 BST containing the new training queue system and minor bug fixes.
20th July: ThePolishDJ resigned from the Head of Network Signalling role, leaving an empty position.
21st July: SCR reached 14 Million Visits, however the only change was 3 days later adding "[14M+]" in the title.
11th August: Second rebranding of Airlink with Class 802 having a complete remodel sneak peeked on the Discord server. The surroundings in the picture are also unknown.
17th August: SCR reaches 100,000 favourites.
20th August: BanTech releases a sneak peak of the new signalling display and CCTV and V1.6.5 is released at 21:00 BST containing the updated Class 802. On the CCTV sneak peek video, it said "Version 1.7.0" in the corner.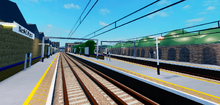 23rd August: Charlie_RBX releases a sneak peek of an upgraded station, saying some significant renovations are going on on the mainline. The station shown in the sneak peek was currently unknown, with debate among players on whether it is Hampton Hargate, Water Newton, or some other station. It is now known to be Water Newton once 1.7 released.
28th August: Charlie_RBX releases a sneak peek of an upgraded Benton Bridge, saying that it's all coming soon in the next big SCR update.

29th August: The following day after the sneak peak of Benton Bridge (the station)'s upgrade, Charlie_RBX posts a sneak peak of Benton Bridge (the structure), showing that it's been into a large suspension bridge with several ships in the surrounding waters.
31st August: Innovations Director BanTech posted a sneak peek of the new train list for the new manual signalling system.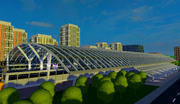 5th September: Charlie_RBX releases another sneak peek of an unknown station (at the time), "courtesy of Thehazad9." It was later confirmed to be Morganstown by RLSJ1997 to Signallers on or around 27 September.
6th September: Charlie_RBX releases a sneak peek of an upgraded Bodin, saying "Just one of 2020 reasons to visit Bodin".
8th September: BanTech releases a video on his YouTube channel showing a demo of the new manual signalling system.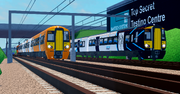 14th September: OverheadWires releases a sneak peek of remodelled Electrostars (Class 377 and Class 387), with the Class 377 being numbered 377/7.
18th September: BanTech posted a recruitment notice on Roblox Developer Forum, looking for a new PDV to upgrade trains [1]. In the end, a new PDV named aeroware was hired.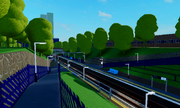 20th September: Charlie_RBX releases a sneak peek of an upgraded East Berrily. It may appear blurry, but if you zoom in on the picture and look closely at the text on the station name sign to the right of the picture, you can see it says East Berrily.
22th September: Aeroware introduces himself as SCR's newest PDV and shows a work in progress Class 707.
27th September: Charlie_RBX releases a sneak peek of Upper Staploe, which was an unused station. The sneak peak shows the upgraded station with 2 tracks instead of 4 and part of a station name sign on the very left of the image which says "loe".
30th September: IslandLine steps down to HOS while hv9690 assumes his position. The Relations Director and Head of People Engagement roles have been renamed to Community Director and Head of Community Engagement respectively.
2nd October: metromaster00 was promoted to Head of Network Signalling, alongside billythepet.
3rd October: tpx_jm releases a sneak peek of a desktop wallpaper containing a small snippet of the map presumably for V1.7. Looking at it, it looks like Stepford Express will be rebranded and going via Morganstown starting in that update, making Morganstown the first station to serve all 4 operators in SCR.
5th October: TransportForWales resigns from Head of Guard Operations, leaving an empty position. Later the same day, JiveOff transfers from HCE to PDV, leaving an empty position in the HCE role. Later then, Innovations Director BanTech posted a sneak peek of the new interior of the Class 707 taken by Product Developer aeroware.

7th October: Managing Director Charlie_RBX posted a sneak peek of the refurbished Benton.
10th October: Head of Brand Design tpx_jm releases a sneak peek of an rebranded Express Livery.
12th October: eduardbnb was promoted to Head of Guard Operations, alongside FrostedPlasma13.
17th October: Head of Brand Design tpx_jm releases a sneak peek of a new suit, possibly a uniform.
18th October: Managing Director Charlie_RBX releases a new sneak peek of a renovated station. It is now know to be Beaulieu Park.
23rd October: SCR reaches 90,000 group members.
28th October:

A sneak peek of Class 801 with the new Express livery has been relased on the SCR Discord. Later that day, OverheadWires posts a picture of an upgraded Class 379 on his Instagram account.
29th October: The Head of Operational Delivery role is created, with metromaster00 and RLSJ1997 assuming it. thestargateking is promoted to Head of Network Signalling to replace metromaster00. On the same day, SCR Version 1.7 was released.
7-8th November: As a 2 year anniversary for SCR In-Game Shifts, Head of Network Signalling billythepet, hosted the first ever, 24 Hour Shift, the longest shift ever hosted in SCR history. There were multiple Supervisors and Managers that helped out for the multiple-part shift.

14th November: Managing Director Charlie_RBX releases a new sneak-peek of a new depot. It is believed, that this depot is in or near Willowfield, due to the fact, that once you zoom in closely, you can see the station of Willowfield and it's commercial buildings, and the Classes 357 are bound to Willowfield and Stepford Victoria, if you look closely.
28th November: A new Product Developer named OriginalArkus joined SCR.
6th December: SCR reaches 100,000 group members. A new promocode was released for this. After the announcement was posted, BanTech updated the roadmap
25th December: Added new promocode to celebrate Christmas and the first anniversary of Express.
30th December: Managing Director Charlie_RBX posts a screenshot of an 801 interior with working PIS boards. Additionally, Charlie confirms this feature's presence in V1.7.1.
2021
1st January: SCR Version 1.7.1 is released. New features include working PIS boards, new on-board announcements, Training 2.0, and more. The update was criticized for being rushed and broken, such as doors opening on the wrong side, the inability to change ends at a terminus, the inability to spawn at Waterline and AirLink stations as a passenger, and the PISs displaying incorrect information. Shortly afterwards, these problems were fixed.
21st January: Managing Director Charlie_RBX posted a sneak peek of a refurbished station. Judging by the buffers at the end of the station and the station name placed on the Concourse Information Boards, the station is found to be Llyn-by-the-Sea.
22nd January: Managing Director Charlie_RBX posted a poll in SCR's Discord server, asking the community to vote for a one-stop branch line possibly between Leighton and Llyn for Stepford Connect, or the long awaited Waterline extension past James Street, which would be shortened than from the original plans to be one stop. It was also confirmed in the post that this would be SCR's final extension of the network. As of 22 March, James Street extension has reached 5000 votes, while Connect extension has almost gained 2000.
23rd January: Former Head of Community Engagement Doodgewoonbas is promoted to Community Director, and Thehazad9 was transferred to Product Developer, leaving the HCE position vacant (except SCR_AutoRank bot). Doodgewoonbas stated a possibility, that the HCE position might be filled soon.
30th January: A new sneak peek of an Edgemead station upgrade has been posted.

7th February: A new sneak peek of a new livery for the Class 43 was posted.
12th February: A new sneak peek of the Class 43 with an updated model and the new livery. Also at the rear is a buffer variant of the same train. This would also confirm OverheadWire's resignation as a Product Developer for the second time.

18th February: SCR hits 20 million visits, however, no update is released.
19th February: 1.7.2. has been released with new Edgemead and Llyn stations rebuilt. The Class 43 has been now remodeled with 2 new variants : 5 car and buffer. The servers are a bit laggy from the release but are better later. It has also come with a number of bug fixes and other small features.
22nd February: Operations Director hv9690 resigned from his position, citing internal reasons. Because of this, the Operations Director rank was removed. At the same time, all manager ranks have been renamed. For example, the Head of Network Signalling is now referred to as the Signaller Manager.
25th February: Signaller and former Lead Driver BrettYork publicly released an open letter addressed towards the Directors and the application process of managers signed by multiple former Supervisors. He cited the unfairness of the recent Engagement Manager applications and told the story of how one of the now incumbent Engagement Managers used flattery to get his position. He also talked about the lack of communication with the Directors. Understandably the community was outraged and demanded an answer. Subsequently, Community Director Doodgewoonbas posted an image of a letter written by him on the SCR Discord stating some points about the current status of the game such as why communication has been minimal between staff, etc.
26th February: Managing Director Charlie_RBX posted a letter, made of two images, on the SCR Discord. This addressed a deeper explanation of statement from Doodgewoonbas' statement from the previous day, as well as some raising concerns from the SCR community about topics like their selection of staff being rigged. Around two hours later, Charlie_RBX announced that the public text channels on the Discord would be temporarily closed due to rioting from the community; the member lounges remained open, however.
4th March: After almost a week of lockdown, the general public text channels reopened. Miscellaneous public channels like #gameplay, remained closed.
5th March: Former Lead Driver BrettYork issues another statement about the situation in Stepford County Railway, denouncing Charlie_RBX for the Discord lockdown, claiming it to be censorship of the mismanagement within SCR, and officially listing three demands, those being that Samproductions being sacked from the Engagement Manager role; the end of lockdown in the SCR Discord, and a formal apology from Charlie_RBX for the mismanagement of SCR and for the crisis. However (as of 24th of April 2021), only the lockdown ended and no other demands (from BrettYork's statement) were fulfilled.
6th March: The remaining miscellaneous public text channels reopen.
25th March: Community Director Doodgewoonbas reveals that the #suggestions chat in SCR Discord Server, which was locked and archived for nearly 2 years, will return. A couple of hours later, the chat opened. It was later locked a few days after while the new system to house it would be developed.
28th March: Managing Director Charlie_RBX released a new sneak peek of the NGv3 Class 357 made by the new Product Developer, MrTransportGuy.
31st March: The interior of the Class 357 was later sneak peeked in the story of SCR's Instagram account.

2nd April: The 1.7.3 update was released, seeing optimisation for other devices in-game, and the release of the new mesh Class 357.
6th April: The Class 755 received the new AirLink livery.
3rd July: New Product Developer LetsGamingYT sneak peeked NGv3 upgrades of the Class 332 and Class 333.
4th July: Managing Director Charlie_RBX sneak peeked Product Developer MrTransportGuy's NGv3 upgrades for the Class 170 and Class 171 and a possible new train which was speculated to be the Class 168.
7th July: Version 1.7.4 was released, featuring Classes 170, 171, 333, & 332 upgraded to NGv3 alongside a new train, Class 168.
16th July: SCR Prototyping Centre opened for the public. A prototype featuring the Class 168 was present in the game at "Transport Tech 2021", along with Proximity Prompts for the Passenger role and the Guard role. Passengers may use the "Q" key (in mobile, clicking the Proximity Prompt) to sit on seats, instead of touching the seat part. Guards can use the Proximity Prompts on the cab doors and physical panels for the guarding procedures. Besides, it featured a new train door animation system, the passenger-controlled doors, mesh track and OHLE model using beams according to the Roadmap.
17th July: Innovations Director, BanTech updated the SCR Roadmap. He also added status labels to some cards.
22nd August: A sneak peek of a Class 333 departing to Llyn-by-the-Sea from an unknown station was released, which led to some people in the community believing this sneak peek could represent a new station and that it seems like the extension was built in favour of Connect, despite more votes for Waterline. It is also possible that the developers decided to do both extensions. However, this is unconfirmed. Many people have also said that the station resembles Colchester Town.
28th August: A sneak peek of a renovated station was released. The station inside the sneak peek is highly speculated to be Rocket Parade, due to the presence of the BanTech Systems HQ in the background, though it is not confirmed. Many people have also said that the station resembles Five Ways.
3rd September: A sneak peek of another renovated station was released. The station inside this sneak peek is highly speculated to be Westercoast due to the noticeable curve in the station and tunnel in the background. This is not confirmed though as the station sign could not be seen clearly.
11th September: A sneak peek of a third upgraded station was released. The station in the picture is speculated to be Woodhead Lane due to the visible signal code which was C031. This particular signal is located right by Woodhead Lane. This station also had a speculated feature of working level crossing signals. It also has staggered platforms.
18th September: A sneak peek of Stepford East was released. Charlie said it was getting a facelift and not an overhaul.
26th September: A sneak peek of an overhauled Elsemere Junction upgrade was released. Unlike Stepford East, this station will receive an overhaul.
3rd October: A sneak peek of Leighton City station overhaul was released. According to the picture, it seems that it will be operated by Network Rail and it will be three times bigger (6 platforms and tracks) than the current station.
9th October: A sneak peek of an NGv3 upgrade of the Class 730 done by Product Developer LetsGamingYT was released exclusively on the official SCR Twitter and Instagram. The sneak peek was released again on the SCR Official Discord server the day after.
17th October: A sneak peek of an overhauled Port Benton was released. This is evident due to Benton Bridge being visible in the background.