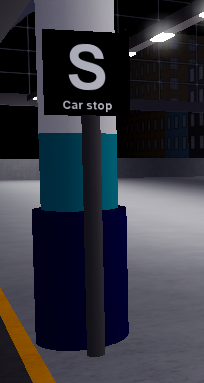 Stop markers are signs that can be find at the end of most station platforms indicating where specific trains should stop.
Purpose
Stop markers provide a way for drivers to stop in a specific location depending on the number of cars in their train. It is important that a driver stops at the proper marker so the train is in an ideal position and Dispatchers can dispatch properly.
Trivia
Most stop markers contain a simple, large "S". These markers should be stopped at if a more specific marker is not present at the station.
Other stop markers indicate a stopping position for trains with a certain number of cars. Some show only one number (like 3) while others display multiple (like 4-5).
Occasionally, stop markers will also show the name of a specific operator that stops there. This can be seen at Platforms 2 and 3 of Leighton Stepford Road. They were formerly AirLink stoppers.
Gallery
Community content is available under
CC-BY-SA
unless otherwise noted.