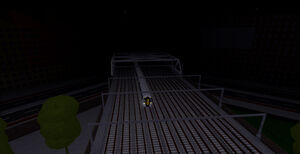 The
Stepford City Zone
, located southwest of
Bodin
and
Angel Pass
, is a zone in Stepford County served by
Stepford Connect and AirLink
services. There are currently 9 stations and 1 depot in this zone. The zone has become the most busiest since the
V1.1
update, as AirLink, the Stepford Victoria Extension and Stepford Depot were implemented. In the
V1.2
was added three more stations to the zone:
Stepford High Street
,
Whitefield Lido
and
Stepford UFC
.
Trivia
All Connect routes serve the Stepford City Zone.
Currently this is the largest zone in the SCR.
It is Stepford County's City Center.
This is the only zone to have an entire route all encompassed in it.
It's one of the few zones where most of the Zone is connected, making Stepford Zone looking huge.
Before The Big Update all the buildings were identical and were lined up in a line. The only things different about each other were the colour.
From the big update onwards, the buildings were given a remake. They still had their blocky look, but were now separated by roads, and had different heights, as seen to the right. Most of it has been demolished, but you can still see this layout at Stepford Victoria.
Now, the city has had a whole remake. Between St Helen's Bridge and Stepford Central were the biggest changes. If you drive there now, you will cross several bridges, and you can see a large cathedral-like building, and many parks. You can also see many unique skyscrapers, including the Connect's Headquarters. Adding also the so called 'Teapot' tower which is a link to yyreb.
This zone is favoured amongst Signallers and probably want to fight over the desk for it.
 Services
| Route Number | Origin | Destination | Operator |
| --- | --- | --- | --- |
| R001 | Stepford Central | Stepford Airport Central | Stepford Connect |
| R002 | Stepford Central | Port Benton | Stepford Connect |
| R003 | Stepford Central | Leighton Stepford Road | Stepford Connect |
| R004 | St. Helens Bridge | Edgemead | Stepford Connect |
| R005 | Stepford Victoria | Stepford Airport Central | Stepford Connect |
| R006 | Stepford Victoria | Port Benton | Stepford Connect |
| R007 | Stepford Central | Morganstown | Stepford Connect |
| R008 | Stepford Victoria | Berrily | Stepford Connect |
| R009 | Stepford Victoria | Edgemead | Stepford Connect (Class 68) |
| R020 | Stepford Central | Whitefield | Stepford Connect |
| R021 | Stepford Central | Stepford United Football Club | Stepford Connect |
| R022 | Stepford Victoria | Whitefield | Stepford Connect |
| R023 | Stepford Victoria | Stepford United Football Club | Stepford Connect |
| R051 | Stepford Central | Stepford Airport Central (E) | AirLink |
| R052 | Stepford Central | Airport Terminal 2 (E) | AirLink |
| R053 | Stepford Central | Airport Terminal 2 (S) | AirLink |
| R054 | Stepford Central | Stepford Airport Central (S) | AirLink |
| R055 | Stepford Central | Airport Terminal 3 | AirLink |