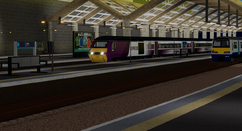 Version 1.4 was an update to Stepford County Railway that introduced the Stepford Connect extension beyond Edgemead and a new operator, Stepford Express. It was released on the 17th of December 2019 at 11:00 UTC. It also fixed a past Roblox bug where servers kept on continuously crashing in SCR.
New In V1.4
New line opened: Stepford Express with 4 new routes, Stepford Central <> Llyn-by-the-Sea, Stepford Central <> Benton, Stepford Central <> Leighton Stepford Road and Stepford Central <> Llyn-by-the-Sea (fast).
Stepford Connect extension: Faymere, Westercoast, Millcastle Racecourse, Millcastle, Westwyvern, Starryloch, Northshore and Llyn-by-the-Sea.
3 new routes for Connect, Stepford Central <> Llyn-by-the-Sea, St Helens Bridge <> Westwyvern and Stepford Victoria <> Llyn-by-the-Sea (Class 68 only).
New depot at Northshore.
Updated train movement system to reduce the frequency of carriages disconnecting.
Tweaked sounds on Class 802 to make it more bearable. A full redo of the train sound system is coming in 2020 to make the sounds realistic and correct.
Bug fix for summary-style customer information screens to correctly show cancellations.
Dispatch capability added to: Edgemead, Westercoast, Millcastle, Westwyvern, Northshore, and Llyn-by-the-Sea.
Updated Operations Director and Relations Director roles for the leaderboard for cg7033 and ATEKGaming.
Signal desk 2F installed in the Stepford East ROC for the Llyn extension signals, and signal desks 2A, 2B, 2C, 2D and 2E updated to add Express.
New type of junction created: Alternating points. They switch from straight to diverging with each train to help ease the load and spread out the arrivals at Llyn-by-the-Sea.
Updated operator badges to show Next Generation trains and to be more consistent with the designs.
Updates that didn't fit in V1.4, but will come in upcoming patches
roPresence support.
An upgraded Leighton City.
An easier way for managers to reward group members with points for taking part in community events.
Full sound system redo for trains.
More depots/spawn points for trains.
An improvement to the part streaming system.
Class 319 and Class 321 Next Generation upgrades.
Community content is available under
CC-BY-SA
unless otherwise noted.