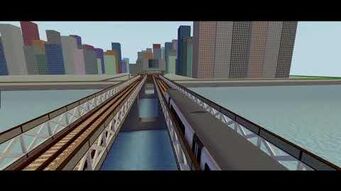 SCR Version 1.1 was a major update. It released on the 31st December 2018 at 12:00 UTC. The update doubled the size of the network and added a new operator.
Official Changelog
New line opened: Airlink with 3 new routes.
Connect extension 1: Stepford Victoria, City Hospital, Financial Quarter (includes 3 new routes).
Waterline extension: Airport West, James Street.
Class 350 refurbishment.
Class 185 refurbishment on Connect.
Class 68 for Connect + unique route Stepford Victoria <-> Edgemead.
Class 802 for Airlink.
Siding spawn + new depot at Airport Parkway for Airlink.
Speed limit indicator on train HUD.
"Waiting train" blue dot indicator on control boards for signallers.
ROC relocated to Stepford East.
Connect extension 2: to Edgemead (past Leighton City).
Angel Pass removed from St Helens Bridge <-> Edgemead route in both directions.
Passing track created at Angel Pass.
Connect extension 3: via New Harrow, Elsemere Pond, Elsemere Junction, Berrily, East Berrily, Beaulieu Park, to Morganstown (includes 2 new routes).
Lighting update using Future is Bright (Voxel) lighting.
Scenery upgrades at: Newry Harbour, Airport Parkway, Stepford East, Faraday Road.
New headcode format.
Part streamer prioritisation logic change - now loads all priority parts (rails, junctions, baseplates) of all requested chunks before loading the remaining scenery of each requested chunk.
Class 701 (WL) removed and refunded.
Class 387 revised headlights and sounds.
And many more minor changes.
source: [1]
Bug Fixes
Spam clicking a depot in the spawn menu would no longer give the train double acceleration and braking, and instead return a train initialisation failed error.

At present, spam clicking the depot will just spawn the train as normal without returning an error.
References