The train now approaching Platform 4 terminates here!

This article or section contains insufficient information and is considered a stub. You can assist this wiki by expanding it as much as you can.
This page is a stub. Feel free to add information to it!
SCR Merchandise
(more commonly known as merch) is merchandise/clothing for Roblox Avatars which can be bought with robux, usually in increments of 5, 10 or 20 robux. The first 'wave' was released on 22 December 2018 with 4 T-Shirt models available for sale. A second wave was released on 24 July 2019 with 2 T-shirt models.
SCR Merchandise can be bought on the official group's 'Store' tab or from the stores around the map.
Real-Life Merchandise
After the 5 Million Update, BanTech announced the creation of real life merchandise on Discord and Twitter. This mostly includes clothing featuring the Airlink and SCR logo. There are mugs, t-shirts and hoodies on sale.
Gallery
See also
ROBLOX merchandise: https://web.roblox.com/my/groups.aspx?gid=3620943
Teespring merchandise: https://teespring.com/stores/stepford-county-railway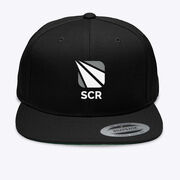 Community content is available under
CC-BY-SA
unless otherwise noted.