Line 35:
Line 35:
 

RCT3.png|Platform View 2

 

RCT3.png|Platform View 2

 

</gallery>

 

</gallery>

 
+

[[File:RobloxPlayerBeta ZPj32tCdFR.png|thumb|220x220px|Bantech Systems HQ Entrance]]

 

[[Category:Stepford Connect Stations]]

 

[[Category:Stepford Connect Stations]]

 

[[Category:Leighton Zone]]

 

[[Category:Leighton Zone]]
---
Revision as of 08:39, 27 December 2019
Rocket Parade station, located at the northern end of the Leighton Zone, is a limited service through station for Stepford Connect services to Stepford Central, Leighton Stepford Road, St Helens Bridge, and Westwyvern.
Trivia
Right across from Rocket Parade is BanTech Systems HQ. BanTech Systems works in association with Charlie_RBX, the Managing Director to develop Stepford County Railway as an Innovation Director.
Prior to V1.1, this station used to be the only limited-stop station. Now there are more limited service stations, which are Millcastle Racecourse, New Harrow, Elsemere Pond, Angel Pass and Berrily (AirLink Only)
This station is discreetely named after BanTech, The Rocket in Rocket Parade is a reference to the fact that BanTech is studying to become a Rocket Scientist (aerospace engineering). Parade is a common suffix.
Gallery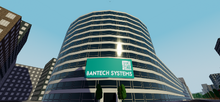 Community content is available under
CC-BY-SA
unless otherwise noted.