This page is about the schematic map. For the network, see Stepford County Railway.
SCR's network map has been a core part of the game since it first opened.
For every operator when the player is driving, they can pull up a map and it will show the stations that the operator will stop at.
This interactive map is incompatible with the mobile view.
If you are seeing this message, it means that you are likely using the mobile view. To view this interactive map, please switch to the desktop view.

The map below is interactive: click the stations or operators to see the pages.
​​​​
How to view
Press M (or 1 when driving) on the keyboard to show it while the player is a passenger. The map of the operators will be shown if the player is driving a train.
The map will show up with a bright white base during daytime in-game, and with a dark base instead during nighttime.
Trivia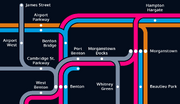 Past Maps
Network Map