Morganstown is a through station and a terminus station that opened as part of V1.1 along with the Stepford Connect extension. This station serves Stepford Connect services to Stepford Central and Beechley, Airlink services to Airport Terminal 2 and Stepford Central, Stepford Express services to Westwyvern, Llyn-by-the-Sea and Stepford Central, and Waterline services to Benton.
This station is still owned by Network Rail as Morganstown doesn't have the new Transport for Stepford logo in Version 1.7 and has step-free access..
Track & Platform Layout
[- Terminus
<< Passing Service Direction
Trivia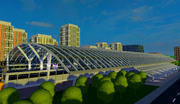 On September 5, Charlie_RBX posted a sneak peek of an upgraded Morganstown "courtesy of Thehazad9", but at the time the station was not known. It was confirmed in the SCR Discord Signalling Lounge by RLSJ1997 that it was Morganstown later that month.
Two Stepford Express routes stop here, R080 (Llyn via Morganstown) and R082 (Westwyvern Express).
In V1.7, there is a glitch when a Waterline train using Platform 5B will find themselves stuck in the station due to a red signal which won't turn green even though there isn't any traffic. Passing this light when there isn't traffic will not apply the emergency brake or commit a SPAD. When the signal is at danger, drivers will still have the normal SPAD procedure. When passing this signal, drivers should check for traffic to avoid getting a SPAD.
The reason why Morganstown is now an Express station is most probably because of the lack of routes. Before 1.7, Morganstown was served only by 4 routes ( R007, R015, R034 and R053 ). After the update, 2 more Express routes are stopping in this station ( R080 and R082 ).
It could be that Morganstown is now based on Stratford station with all lines meeting all together.
Altough you can see Hampton Hargate from here with a high enough render distance, there is no direct link between them, so passengers have to go either via Leighton Stepford Road or Benton.
Morganstown and its surroundings used to be very bland before its renovation, but now features new scenery and new station building.
Community content is available under
CC-BY-SA
unless otherwise noted.