Overview
Morganstown is a through station and a terminus station that opened as part of V1.1 along with the Stepford Connect extension. This station serves Stepford Connect services to Stepford Central and Beechley, Airlink services to Airport Terminal 2 and Stepford Central, Stepford Express services to Westwyvern, Llyn-by-the-Sea and Stepford Central, and Waterline services to Benton.
Track & Platform Layout
[- Terminus
<< Passing Service Direction
Trivia
There was a glitch upon release of V1.6 that allowed Airlink trains that used Platform 6 to be rerouted onto the Waterline bridge, and into Morganstown Docks. As soon as the Airlink train arrived in Morganstown Docks it would be despawned with the message "Route violation detected".
This station is still owned by Network Rail as Morganstown doesn't have the new Transport for Stepford logo in Version 1.7.
Platform 6 used to be rarely used for stopping or skipping Airlink trains, however it was commonly used for Waterline shuttle trains coming from the Morganstown Siding.

This is now not the case as of V1.7 due to the fact that Platform 6 has become the primary platform for Airlink due to the fact that Stepford Express can only use Platform 4 due to the current track switches. If Platform 6 is full, Airlink services will use Platform 4.
There was also once a glitch, where even there was a train already occupying platform 6, another train could still go through platform 6. It can be Two Airlinks or Airlink with Waterline.

This station has lettered platforms like Newry.
The rails at Platforms 1 and 2 extend noticeably beyond the buffers prior to Version 1.7. As a result, in the past a number of players speculated that there would be a further extension on the Connect Morganstown Branch. It was never materialised.
During parts of late 2019, the platform announcements were glitched when the name is said due to a corrupt sound file. They were fixed in the Five Million Update. This is also the same as New Harrow and Berrily.
Despite being a large station, there were no CIS boards before V1.4.1. The same can be said for Berrily, except they added these in an update before V1.4.1. They added these in V1.4.1 as well as the ability to dispatch.
There is a siding just east of the station, which leads to Platform 6. This is only used by the Morganstown Shuttle service of Waterline.

Strangely, even though the siding is situated on a line used by Airlink, Airlink trains can't spawn there. This is likely due to the Stepford Airport Parkway Depot being only a short distance further from Morganstown and can spawn trains to Leighton Stepford Road.
It is also very short for most Airlink trains, which might be another reason why.

There used to be a part of the station called Morganstown High Level, which was just 2 elevated platforms with no connections to Morganstown, but had a link to Morganstown Docks. However, it was replaced by Platforms 5A and 5B, and the original platforms were demolished.

It might be possible that the Morganstown Shuttle was planned to terminate at Morganstown High Level.

There was banner repeater at Platform 6, alongside an OFF indicator. Other stations that have Banner Repeaters are St Helens Bridge, Angel Pass, Bodin and Newry.

Platforms 5A and 5B used to not have any OFF indicators or banner repeaters.
As of version 1.7 platform 4 does not have a OFF indicator

As of V1.7, it is the first and only Quad-line junction station and is the first Waterline - Airlink interchange. It is also currently the only Waterline - Airlink interchange.
This station, as well as Westercoast and Willowfield, are the longest single word station names, with the overall longest station name being Stepford United Football Club.
This station has step-free access.
Though there are not many Waterline trains serving the Morganstown Shuttle, unlike Newry Harbour, the Waterline map did not label Morganstown as a station with limited service although both stations seldom have Waterline services calling at.
Before the Morganstown Shuttle was opened in V1.6, there were no direct rail connection between this station and Morganstown Docks. At that time, if you wanted to go to Morganstown Docks from here, you needed to take a Stepford Connect service to Beaulieu Park, then walk to Whitney Green and then take a Waterline train to Morganstown Docks.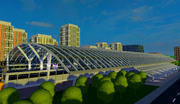 On September 5, Charlie_RBX posted a sneak peek of an upgraded Morganstown "courtesy of Thehazad9", but at the time the station was not known. It was confirmed in the SCR Discord Signalling Lounge by RLSJ1997 that it was Morganstown later that month.
Two Stepford Express routes stop here, R080 (Llyn via Morganstown) and R082 (Westwyvern Express).
In V1.7, there is a glitch when a Waterline train using Platform 5B will find themselves stuck in the station due to a red signal which won't turn green even though there isn't any traffic. Passing this light when there isn't traffic will not apply the emergency brake or commit a SPAD. When the signal is at danger, drivers will still have the normal SPAD procedure. When passing this signal, drivers should check for traffic to avoid getting a SPAD.
The reason why Morganstown is now an Express station is most probably because of the lack of routes. Before 1.7, Morganstown was served only by 4 routes ( R007, R015, R034 and R053 ). After the update, 2 more Express routes are stopping in this station ( R080 and R082 ).
It could be that Morganstown is now based on Stratford station with all lines meeting all together.
Altough you can see Hampton Hargate from here with a high enough render distance, there is no direct link between them, so passengers have to go either via Leighton Stepford Road or Benton.
Morganstown and its surroundings used to be very bland before its renovation, but now features new scenery and new station building.
Community content is available under
CC-BY-SA
unless otherwise noted.