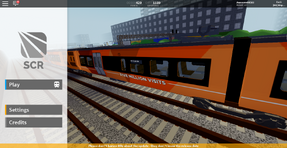 The Five Million Update is an update which was published on September 17th, 2019 as V1.3.26, which introduced the Class 755 and Airlink's extension to Leighton Stepford Road. There is also a new intro for the update, replacing the Menu screen station from Stepford East to Bodin. The abbrication of Leighton Stepford Road also changed in this update, changing from "Stepford Road" to "Leighton Step Rd", most likely to avoid confusion. Also, a message was displayed at the bottom of the screen saying "Please don't harass HRs about the update - they don't know the release date.", to tell players that Supervisors didn't know when the release of SCR Version 1.4 was.
Class
755/3
755/4
Serving:
Airlink
Top Speed:
100MPH
Price:
2250 Points
Unlock Class 755/3
Coaches:
3 Coaches
4 Coaches
Community content is available under
CC-BY-SA
unless otherwise noted.