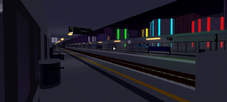 Overview
Eden Quay is a through station. It is served by WaterLine services to Newry, Newry Harbour, James Street, Connolly, and Greenslade.
Platform Layout
Trivia
For a while, there was no water beneath the station, and no buildings surrounding it. It was on the grass surrounded by bushes, with no exit and no scenery.
This is one of the few stations in the game that do not have a road near their entrance. The other  stations with this trait are Stepford Airport Central, Airport T1, T2, T3 and Greenslade.
This is one of the stations that have the most detailed scenery in the entire network.
This is the only station on the entire Stepford County Railway network that does not have a direct, ground-level entrance.
This is one of two stations that are suspended above the water. The other station is Financial Quarter.
This is the only station to have tilted station name signs.
This is the only elevated station on WaterLine.
Community content is available under
CC-BY-SA
unless otherwise noted.