East Berrily is a through station that opened as part of the V1.1 update for the Stepford Connect extension to Morganstown. It is served by Stepford Connect services to Morganstown, Stepford Central and Beechley.
Platform Layout
Trivia
The level crossing at this station originally despawned people who walked on it. This was fixed, and you can now cross without penalty.
You can walk from this station to Beaulieu Park.
There is a commercial building called "Greenslade Security" next to this station.
This station is rarely used, but is not considered as a limited station.
This station's platforms are slightly shorter than the length of a 5-car train. When a 5-car train approaches this station, the announcer will state that the doors of the rear coach will not open. This also happens at Hemdon Park, New Harrow, Elsemere Pond, and Beaulieu Park.

Because of the short platform, if a guard is guarding a Class 380/1 (and possibly other 4-coach Stepford Connect trains with moving cab doors) the cab door will open off of the platform and the guard will have to walk onto the grass to get out of the train.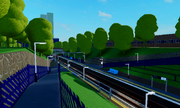 On 20 September 2020, Charlie_RBX releases a sneak peek of an upgrade to a station, which is widely believed to be East Berrily.

In the sneak peek, the Airlink tracks were not present. Either they pass on East Berrily's platforms, or they will travel on another branch skipping this station.
It is now known that the slow tracks slightly diverge off the mainline to serve this station. The scenery blocks the fast tracks from view.

To cross to the other platform, you used to have to walk across a foot crossing. However in 1.7.0, you can now go to the platforms via their respective entrance from spawn.
Community content is available under
CC-BY-SA
unless otherwise noted.