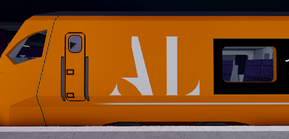 Overview

The Class 755 FLIRT is a bi-mode multiple unit train manufactured by Stadler Rail, in use on Airlink. These trains are formed of 3 (755/3) or 4 (755/4) coaches, and cost 1688 points.
Trivia
These trains are the only trains in SCR to have one set of double doors located at the ½ carriage position in every coach. They are also the second bi-mode train in SCR, the 802 being the first. 
These trains were added in celebration of five million place visits, and the 755/3 units have a unique livery to indicate this.  
The livery only is applied on only one of the train variants (755/3). This follows a similar system on the Class 331, where only the /0 variant had the 3M visits livery.  
This train is the first "million" train to be a Next Generation train. (If SCR hit 3 Million a bit later, the Class 331 would instead have this record). 
In real life, these train are incredibly quiet and smooth, as the engines are all in a single car without seats instead of under the floor of each car. 
This is the first FLIRT train in SCR. 
The modelling of these trains has been heavily criticized for its inaccurate over curvature. 
These trains don't have first class in real life, but they do have first class in SCR. 
The Class 755 at Bodin TrainCare has been there since the Five Million Update.
In real life, this train is operated by Greater Anglia.
Community content is available under
CC-BY-SA
unless otherwise noted.