(class 380 image, class 380 release)

(5 intermediate revisions by one other user not shown)
Line 12:
Line 12:
 

[[Woodhead Lane Southbound Depot]]

 

[[Woodhead Lane Southbound Depot]]

 
 
−

[[Woodhead Lane Northbound Depot]]|caption1 = Class 380/0 #380068 heading to [[Port Benton]]}}

+

[[Woodhead Lane Northbound Depot]]|caption1 = Class 380/0 #380068 [[Port Benton]]}}

 

== Overview ==

 

== Overview ==

−

The Class 380 ''[[:Category:Desiro|Desiro]] ''trains are used for [[Stepford Connect|'''Stepford Connect''']] services. These trains are 3 or 4 cars in length, with a max speed of 100 MPH. When you buy the Class 380/0, you will also automatically receive the Class 380/1.

+

The Class 380 ''[[:Category:Desiro|Desiro]] '' [[Stepford Connect]]. These trains are of 380/0 .

 
 
 
+

It was released on the 10th May 2018, as part of Version 1, Patch 11 and the Class 380 featured as one of the thumbnails for Stepford County Railway.

−

This train was added to SCR on May 11, 2018 and cost 1500 points to buy.

 
−
 
⚫
 
⚫

The Class 380 is part of the Desiro UK family built between 2009 and 2011 for use by ScotRail. There are 6 members of the Desiro UK family with 4 of the trains available ingame. The trains available in-game are the [[Class 185]],

[[Class 350]], [[Class 360]], and the Class 380. The trains not available are the Class 444 and the Class 450.

 
 
 
 

== Trivia ==

 

== Trivia ==

 

* The Class 380s are split into 2 different types: The Class 380/0 and Class 380/1. The only difference between the two is the number of coaches.

 

* The Class 380s are split into 2 different types: The Class 380/0 and Class 380/1. The only difference between the two is the number of coaches.

 

* This train was the first to have more than one variant.

 

* This train was the first to have more than one variant.

 
+

The Class 380 is arguably the least used train on [[Stepford Connect]] as drivers rarely use the train, but it might be used more once it becomes a [[Next Generation]] train.

−

* This is the only train in SCR to not operate in England. (Operates in Scotland via Scotrail). The [[Class 158]] and [[Class 170]] also operate for ScotRail. Other operators operate the [[Class 350|350]]

 
 
+
 
⚫
 
+

[[File:StepfordClass380.png|thumb|220x220px|The thumbnail for Stepford County Railway on the Class 380 release. The picture was taken by RoseTaylorMurray

 
+

]]

 
⚫

The Class 380 is part of the Desiro UK family built between 2009 and 2011 for use by ScotRail. There are 6 members of the Desiro UK family with 4 of the trains available ingame. The trains available in-game are the [[Class 185]],[[Class 350]], [[Class 360]], and the Class 380. The trains not available are the Class 444 and the Class 450.

 
 
 

== Gallery ==

 

== Gallery ==
---
Revision as of 18:28, 9 December 2019
Overview
The Class 380 Desiro is an electric multiple-unit manufactured by Siemens, in use on Stepford Connect. These trains are formed of 3 (380/0) or 4 (380/1) coaches, and cost 1500 points.
It was released on the 10th May 2018, as part of Version 1, Patch 11 and the Class 380 featured as one of the thumbnails for Stepford County Railway.
Trivia
The Class 380s are split into 2 different types: The Class 380/0 and Class 380/1. The only difference between the two is the number of coaches.
This train was the first to have more than one variant.
The Class 380 is arguably the least used train on Stepford Connect as drivers rarely use the train, but it might be used more once it becomes a Next Generation train.
Extra Information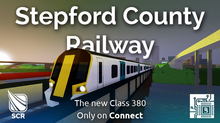 The Class 380 is part of the Desiro UK family built between 2009 and 2011 for use by ScotRail. There are 6 members of the Desiro UK family with 4 of the trains available ingame. The trains available in-game are the Class 185,Class 350, Class 360, and the Class 380. The trains not available are the Class 444 and the Class 450.
Gallery
Community content is available under
CC-BY-SA
unless otherwise noted.