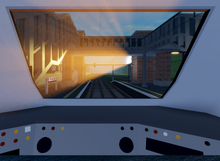 Overview
The Class 221 Super Voyager is a tilting diesel-electric multiple-unit manufactured by Bombardier Transportation, in use on Stepford Express.
In real life, the Class 221 entered service in 2002, and like the Class 220, were meant to replace the Class 47 and the InterCity 125.
In SCR, the Class 221 features 1 first-class driving cab coach, 3 standard class coaches and 1 standard class driving cab coach in the back.
Trivia
This train has gold in its livery, which is part of the 10M livery.
This train is exactly the same as the Class 220, with the exception of the bogie design, the number of coaches, and that the 221 can tilt, unlike the Class 220 (real life only).
In real life, these trains are operated by Avanti West Coast and CrossCountry.
In real life, there are four car variants of this train. However, they are very rare.
This train had 2 sneak peeks before being released. One being a very dark image with the destination board saying 'Special' and the other one being two Class 221s and a Class 220.
This train, the Class 220, the Class 331 and the Class 195 are the only trains in SCR to have the SCR logo on the front of the train.
Like CrossCountry's Class 221s in real life, these trains don't tilt in SCR, thus increasing reliability and reducing maintenance costs. The trains do tilt on Avanti though. (The Stepford Main Line is more like the East Coast Main Line than the West Coast Main Line as it has mostly straight sections and it supports 125 MPH operations without needing tilt functionality)
In real life, these trains are due to be replaced by Hitachi AT300 units on the West Coast Mainline. The future of the Cross Country route's units along with the Class 220 however is unknown at this point.
Gallery
Community content is available under
CC-BY-SA
unless otherwise noted.