Overview
The Class 170 Turbostar trains are used for Stepford Connect services. These trains are 3 cars in length, with a max speed of 100 MPH. This train costs 1500 points. This train has been upgraded to Next Generation.
Trivia
This train barely executes any lag, however, because of its similarity with the Class 357, this train is rare to drive, among drivers.
This train is similar to the Class 171, with the difference being its coaches and the operator.
This train (along with the Connect Version of the Class 185) is mostly used for the short Stepford Central to Stepford UFC (R021) route. Which is the second shortest route in the game. (Only the Benton to Greenslade WaterLine (R013) route is shorter).
The real-life difference is that the coupler is different.
Gallery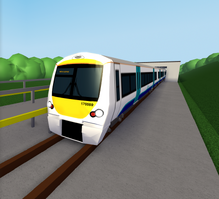 Community content is available under
CC-BY-SA
unless otherwise noted.