Line 27:
Line 27:
 

*This is the only station to have more than 2 platforms and no island platforms.

 

*This is the only station to have more than 2 platforms and no island platforms.

 

*Bodin is, as of V1.3.28, one of the three stations showed in the [[Stepford County Railway Intro]], because of the new [[Class 755 ]]celebrating 5 million visits of SCR, displayed at the [[Bodin TrainCare]], replacing [[Stepford East]] as its station showed, the other two stations are [[Rocket Parade]] (BanTech's HQ) and [[Airport West]] (first underground station in all of SCR).

 

*Bodin is, as of V1.3.28, one of the three stations showed in the [[Stepford County Railway Intro]], because of the new [[Class 755 ]]celebrating 5 million visits of SCR, displayed at the [[Bodin TrainCare]], replacing [[Stepford East]] as its station showed, the other two stations are [[Rocket Parade]] (BanTech's HQ) and [[Airport West]] (first underground station in all of SCR).

−

*There are 2 tracks that are boarded up and [[Stepford Express]] will not stop here.

+

*There are 2 tracks that are boarded up and [[Stepford Express]] will stop here.

 

[[Category:Stepford Connect Stations]]

 

[[Category:Stepford Connect Stations]]
---
Revision as of 23:08, 25 November 2019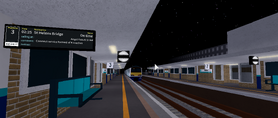 Overview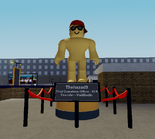 Bodin is a through station served by Stepford Connect services to Stepford Victoria, Stepford Central, St. Helen's Bridge, Port Benton, Stepford Airport Central, Leighton Stepford Road and Edgemead.
Bodin is a medium sized suburb with apartments to the right side of Bodin station. VisitBodin is its promotional campaign founded by Thehazad9 to boost visits to this area.
Platform Layout
Key: (Platform #) (Operator) services to (Destination)
Trivia
A gold statue of Thehazad9 is located outside the station.

If you climb to the top of the statue, you get a badge.
The plaque is outdated for it states that Hazad is the Chief Operations Officer (COO) which is no longer a rank. He was formely the People Director after this before resigning on October 2019.

This station is near the Bodin TrainCare shed. Previously around that area was Bodin Depot, but it has been demolished since The Big Update.
This is the only station to have more than 2 platforms and no island platforms.
Bodin is, as of V1.3.28, one of the three stations showed in the Stepford County Railway Intro, because of the new Class 755 celebrating 5 million visits of SCR, displayed at the Bodin TrainCare, replacing Stepford East as its station showed, the other two stations are Rocket Parade (BanTech's HQ) and Airport West (first underground station in all of SCR).
There are 2 tracks that are boarded up and it is unlikely Stepford Express will stop here.
Community content is available under
CC-BY-SA
unless otherwise noted.