Overview
Bodin is a through station served by Stepford Connect services to Stepford Victoria, Beechley, Willowfield, Stepford Central, St Helens Bridge, Port Benton, Stepford Airport Central, Leighton Stepford Road, Edgemead, Westwyvern, and Llyn-by-the-Sea.
Bodin is a medium sized suburb with apartments to the right side of Bodin station. VisitBodin is its promotional campaign founded by Thehazad9 to boost visits to this area.
Track & Platform Layout
[- Terminus
<< Passing Service Direction
Trivia
A gold statue of Thehazad9 is located next to this station.

If you climb on top of the statue, you'll get the badge "Mayor of Bodin".
The plaque used to be outdated prior to V1.6, for it stated that Thehazad9 was the Chief Operations Officer (COO), which is no longer a rank you can obtain. He was the Community Director (then called People Director) after this before resigning in October 2019. The old plaque can be found in the bushes near the statue.

This station was next to Bodin TrainCare. Previously around that area was Bodin Depot, but it was demolished in The Big Update. Bodin TrainCare was removed in V1.7.
This was the only station to have more than 2 platforms with no island platforms.

This changed in V1.7.
According to the sneak peek, the upgraded Bodin will have one side platform and one island platform, with passing tracks of Express between the side platform and island platform. It will also have an upgraded footbridge with the word "BODIN" on top of it.

Bodin was one of three stations shown in the Stepford County Railway Intro because of the Class 755/3 (which is in a special 5 million visits livery) being displayed at Bodin TrainCare, replacing Stepford East in the Five Million Update. Bodin was replaced by Llyn-by-the-Sea in V1.4. The other two stations featured in the intro are Rocket Parade (BanTech's HQ) and Airport West (which was replaced by Northshore).
Before SCR Version 1.7, this was one of only 4 stations with old Banner Repeaters, along with St Helens Bridge, Angel Pass and Morganstown. However, this station is no longer dispatchable. Also, there were once CD/RA indicators here, however, very few people ever got the chance to use them before they were removed. CD/RA dispatching is a proposed feature on the roadmap, so they could be added back soon.
Bodin was once a dispatchable station but when The Big Update was released you couldn't dispatch here anymore. However, after Bodin was upgraded in V1.7, it became dispatchable again.
This station has become infamous after Charlie_RBX's account was incorrectly terminated on the 24th of June 2020, due to a Roblox moderator incorrectly flagging the new announcement for "Bodin" as an inappropriate word, and caused his account to be briefly terminated for a few hours due to an "inappropriate username".
This recieved a scenery upgrade in V1.7.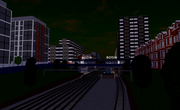 In the bushes next to the statue, there was once a rusty sign which used to be on the statue, as Thehazad9 was the People Director (later renamed to Relations Director and Community Director) before he became Product Developer, which then made the sign incorrect. The sign was changed in V1.6 adding this extra "easter egg", but as Thehazad9 has since became Relations Director (later renamed to Community Director) again, the sign is inaccurate again.
Gallery
Community content is available under
CC-BY-SA
unless otherwise noted.