Overview
Benton Bridge is a train station in the Benton Zone. It is served by Stepford Connect services to Stepford Victoria, Beechley, Willowfield, Stepford Central, St Helens Bridge, Benton, Stepford Airport Central, Leighton Stepford Road, Edgemead, Westwyvern and Llyn-by-the-Sea.
Platform Layout
Trivia
At the western end of the platform is the River Ben, and at the eastern end is the interchange of tracks going to and from Stepford Airport Parkway and Hampton Hargate.
Before V1.1, Benton Bridge was not a dispatchable station.
R009, R026 and R036, which are exclusive to the Class 68, are not scheduled to stop at this station.
A lot of people on the Discord server think this station should be remodeled to decrease traffic.
You can walk from this station to Benton, Port Benton, or Cambridge Street Parkway via road. However, the road connection leading to Benton runs through a railway crossing on the Stepford Express Line, which lies on active track, and usually despawns pedestrians crossing it.
This station has a 2 car stop marker for the Class 158/9, currently the only station on Stepford Connect that does.
This station used to have a more futuristic design.
If you look on the footbridge, there are old signs. The sign for platform 1 says "This platform for trains to to Stepford Central via Coxly" and the sign for platform 2 says "Trains to Stepford Airport and Leighton". The signs don't mention St Helens Bridge, Stepford Victoria, Edgemead, Westwyvern, Llyn-by-the-Sea, Beechley and Willowfield.
Prior to V1.7, this station only had 2 platforms.
On the 28th of August 2020, Charlie_RBX sneak peeked an upgraded Benton Bridge saying "Another station with a bit of an upgrade! All coming soon in the next big SCR update". In the sneak peek, there are new commercial buildings, including one named "The Daily Sausage", as a reference to the newspaper in Mind the Gap.
On the following day (29th of August, 2020), a sneak peek of Benton Bridge (the structure) was posted, showing that the bridge has been upgraded into a large suspension bridge, scenery updates around Port Benton, electrification on the Morganstown bridge and several static ships in the surrounding waters.

However, some people criticised the new bridge, saying that the gradient of the bridge is too steep for trains and therefore not realistic.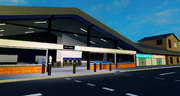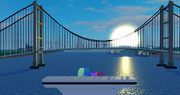 Community content is available under
CC-BY-SA
unless otherwise noted.