Beaulieu Park is a through station that opened as part of V1.1 along the Stepford Connect extension to Morganstown. This station serves trains to Stepford Central, Beechley and Morganstown.
It received a major upgrade in SCR Version 1.7 which revamped the station itself, the surrounding area, and the addition of Beaulieu Park Signal Box.
This station is the location of the Beaulieu Park Signal Box.
Track Layout
Trivia
It is technically an interchange between Waterline and Connect, due to the fact that you can walk to Whitney Green from the station. The most convenient way to get to Whitney Green is to follow the path to the park. You can also walk to East Berrily from this station but that is longer.
Prior to v1.7, this station was very bare. It contained two strange looking concealed stairwells, 2 bare platforms, some unused platforms on the Airlink tracks for no real reason, and really not much else. The area around it was also incredibly bland, with just some bushes and grass and no sign of Beaulieu Park itself.
Before its upgrade, this was one of the only stations in SCR to have neither CIS boards nor Concourse Information Boards. Edgemead, James Street, and Upper Staploe are the only stations left without them.
This station, Ashlan Park and Hemdon Park are the only stations in SCR to have "park" in their name.
This station used to be called "Beaulieu Park (Morganstown)". However, when it opened, it was renamed to just "Beaulieu Park".
Before this station had been upgraded in SCR Version 1.7, this station's platforms were slightly shorter than the length of a 5-car train. When a 5-car train approached the station, the announcer would have stated that the doors of the rear coach will not open.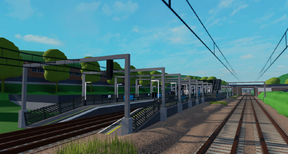 This station is one of the revamped stations in 1.7, as of the sneak peek posted on 18th October.
This station has step-free access.

This station was not wheelchair accessible before being revamped in SCR Version 1.7.

Though only wheelchair access to platform 1 as it takes a footbridge to platform 2.

This station's name is censored in game chat for no reason. The community call Beaulieu Park by its uppercases: BP. This happens to West Benton (often called WB), Connolly (called "Conoly") and Whitney Green (called WG), too. Beechley is also censored, but it has a reason why, so most people call it "Beachley". Many other stations' names and words can be censored due to lag or because of safe chat.

However, "Beau lieu Park" does not get censored.
Community content is available under
CC-BY-SA
unless otherwise noted.