Overview
AirLink serves as the quick airport rail link between Stepford City or Leighton, and Stepford Airport, delivering passengers to Stepford Airport Central, Airport Terminal 2 and Airport Terminal 3 in 8 minutes. It currently has 7 routes, 2 direct, the 5 others with a flipped stopping pattern.
There's a chance that AirLink resembles the real life Gatwick Express since the livery of Gatwick Express is being used on the newer Next-Generation trains.
The AirLink Headquarters can be found at Berrily.
History of AirLink
2017
AirLink was first proposed back in November 2017, when Charlie_RBX, the Managing Director and founder of SCR, stated in the #announcements channel on Discord that a new line was coming. It was named AirportExpress in the old network plans, and the first train that was going to run on it was the Class 345 Aventra. Many people were excited for the new line. Then later, multiple Class 345 trains started testing on the AirLink mainline. This was a sign that AirLink would be coming soon. People waited until the end of the year, but the new line never came. Another image was posted in #announcements showing two Class 345s at the Stepford Airport Parkway Depot. (A video is available on YouTube of the Class 345's testing.)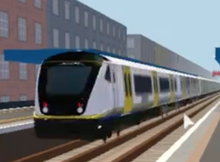 2018
On the 23rd of September of 2018, an image was posted to the #sneak-peeks channel by the Innovations Director, BanTech. It showed a picture of the new Stepford Central track layout for signal boards at the ROC. In the picture, it showed that platforms 12, 13, 14, and 15 were going to be used. This caused wild speculation among SCR players, stating that AirLink may be coming in V1.1.
Then in December, SCR released an advent calendar with each day as a sneak peek for Version 1.1. On Day 22, it finally happened. In a surprise announcement, they said that a new line, AirLink, was going to be released, with Classes 185 and 802s running on the line. It is unknown why the Class 345 was never released, but it is most likely due to the fact that seven coaches would be too laggy and the Class 345 is a city train and that AirLink only uses express trains.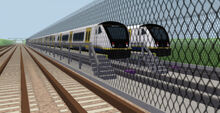 2019
Soon after the release of 1.1 on New Years' Eve, more trains were added to the fleet, such the Class 332 and Class 360. In February, the Airport Terminals Were added. In May, AirLink introduced its refurbished 185 with NG technology. The Class 387 was then moved to AirLink from WaterLine in June and also refurbished with NG technology. Not long ago, Airlink got a new logo and a new colour, from yellow to dark orange. Then in September, a new train was added to the fleet: the Class 755 and the line was extended to Leighton Stepford Road to commemorate SCR hitting 5 million visits. Toward the end of September, the Class 802 got a refurbishment to Next Generation technology.
Rolling Stock
The following list represents the current, past, and future fleet of AirLink.
Current
Class Number
Maximum Speed
Price
Number of Coaches
Routes Operated On
Train Family
Date Put Into Service
Class 185 (Next-Gen)

100 MPH
1500 points
3 or 6 coaches
All routes
Desiro
December

31, 2018

(Next Generation-May 24, 2019)

Class 332

100 MPH
1500 Points
4 or 5 coaches
All routes
N/A (No Family
January 25, 2019
Class 360

(Next-Gen)

100 MPH
1500

Points

4 or 5 coaches
All routes
Desiro
February 1, 2019 (Next Generation-July 20, 2019)
Class 387 (Next-Gen)

110 MPH
3000

Points

4 coaches
All routes
Electrostar
June 8, 2019
Class 755 (Next-Gen)

100 MPH
2250 points
3 or 4 coaches
All routes
FLIRT
September 16, 2019
Class 802 (Next-Gen)

110 MPH
3000

Points

5 coaches
All routes
A-Train (Nova 1)
December 31, 2018 (Next Generation-September 30, 2019)
Former
| Class Number  | Maximum Speed | Price | Routes Operated on | Train Family | Date Put into SCR | Date Withdrawn From SCR |
| --- | --- | --- | --- | --- | --- | --- |
| Class 345 (Legacy-test -train) | unknown | unbuyable | Stepford Town to Airport | Aventra | unknown | unknown |
Future
Depots
Current
Future
No depot has been revealed yet.
Former
No depot has closed down yet.
Sidings
Current
Future
No New Sidings cormfirmed
Former
No siding has been closed yet.
Stations
Current
Future
There are no announced stations on AirLink yet.
Former
There are no former stations on AirLink.
Routes
You can see the list of all AirLink routes here.
Note
It is not suggested that you drive on AirLink if you're trying to earn points since most of the stations are far away from each other and the routes have very few stops.
The whereabouts of the Class 345 are unknown.
Trivia
The Logo is based off the Gatwick Express Logo as shown here.

AirLink is the only operator that has Express and Stopper Routes.
Airlink is the only operator which offers first class onboard.
Airlink has the joint fastest speeds, with Connect on the network: 110mph
Airlink has the lowest amount of different rolling stock (double, or trains with one extra carriage), which is 5.
There are only 12 stops in total that Airlink serve, making it the least amount of stations served by an operator.
The scheduled timetable says that Express Trains from Stepford Central don't stop until Airport Central, making this the greatest distance between two scheduled stations.
With the exception of the Class 332, all Airlink fleets are Next Generation.
Airlink holds the record of the longest train in the game, the double Class 185, having 6 coaches. AirLink also held the record of the longest train ever in the game, the unreleased Class 345, which had 7 coaches.
AirLink and Connect are the second 2 operators to share tracks, as of the 16th September 2019 because of the extension to Leighton.
This operator and Stepford Connect have many stations in common, except for the airport terminals.
Community content is available under
CC-BY-SA
unless otherwise noted.